During the World Handball Championship in Egypt, the Congolese Gauthier Mvumbi drew attention both for his physical form and for his talent, both atypical at the highest level.
In Cairo, the pivot quickly shifted from shadow to light. He who plays in Dreux, in Nationale 2, the 4th French division could not imagine a much better start to the competition on a personal level.
Unknown to the world top, Mvumbi was damn effective in just 11 minutes against Argentina (28-22 loss) then against Denmark (39-19 loss): 8 goals in 9 attempts.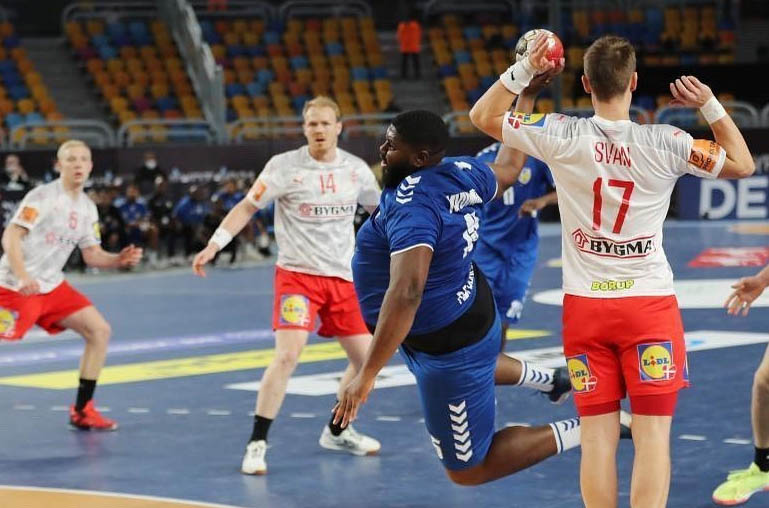 Sign of its almost global audience, a message sent by the great Shaquille O'Neal. "They say you are the Shaq of hand, what's going on?", Asked the former pivot of the Lakers (2.16m).
Besides that of the US basketball legend, Gauthier Mvumbi also aroused the admiration of South American commentators during the meeting against the Albiceleste. They quickly dubbed him "El Gigante", getting excited with every push from the Congolese pivot, mocking their own players overwhelmed by Drouais' power.
On the networks, his performances initially subject to mockery quickly gave way to sympathy. His number of followers has exploded on Instagram where he now has nearly 10,000 followers.
He does not hide it, his weight is a poison for the opposing defenses, difficult indeed to contain his 110 kilos in the zone of 6m. A delicate subject which benefits: "it is an asset today because I use it to impose myself on the edge of the zone," he underlines.
While he had not convinced his training club, Créteil, to keep it in 2013, he first returned to his first amateur club, Vernouillet. After 6 seasons in National 1, he chose last summer to return to Dreux, his hometown where he still lives with his parents from Kinshasa.
Gauthier Mvumbi concentrates on the rest of the competition and does not shy away from his pleasure, he who had previously played 3 CAN. If his country is not among the favorites, the leaders of his selection do not hide their ambitions.
"The objective is to advance to the second round" recalls the assistant coach of the DRC, Gabriel Bourguignon. But the country has already won its first trophy: the interest it arouses thanks to Gauthier Mvumbi.